FarPlay is a full-fledged communication solution, not so different at first glance from Zoom or FaceTime. But there's a huge difference under the hood: FarPlay reduces the audio delay between yourself and others to the absolute minimum, so much so that you can play music together over the internet in real-time.
Now with built-in video, multi-user sessions, multi-track recording, and personal meeting rooms.
"@FarPlayApp is FABULOUS! This app is amazing! AND the latency is closer and closer! Thank you!"
Susan Eichhorn Young @seyvoice, Twitter

"This is a great application for rehearsals - music and acting, coaching, music therapy."
JoseSPiano
@JoseSPiano, Twitter

@FarPlayApp is awesome! This is a game changer for music practice over the internet.
Christopher Arnold @b1tw1se, Twitter

It really works ! I tested it, playing with my friend @leandro.fortes More than 1000 km apart! Porto Alegre/São Paulo
Julio Herrlein @herrleinjulio, Instagram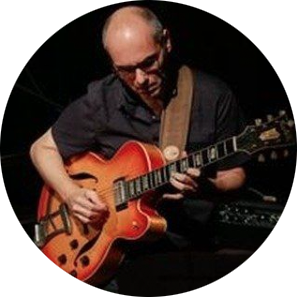 While conventional communication solutions have latencies — the delay between yourself and others — well over 100 ms (milliseconds), FarPlay can achieve latencies below 10 ms, which feels the same as playing with someone 10 feet away from you. 
FarPlay transports audio so efficiently that you can play music, teach lessons, conduct interviews, or talk as if you were together in the same room, even though you might be hundreds or even thousands of miles apart.
FarPlay has been carefully designed to be as easy as possible to use. You don't need to configure a server or open ports on your router (a potential security vulnerability), you don't need any dedicated hardware, you don't need to install any third-party software. It's as easy to use as Zoom, without Zoom's latency. It just works, allowing you to start playing music in minutes.
There's a radical idea at the core of FarPlay: you don't have to sacrifice audio quality to get the lowest latency. FarPlay's cutting-edge buffering mechanism allows you to push for the lowest latencies in your monitoring, so that you can play the most authentically synched music possible, all while outputting clean studio-quality audio for recording or broadcasting. You can have your cake, and eat it too.
FarPlay is made by musicians, for musicians. Based on thousands of hours of real-world use in performances, lessons, and recordings, we've carefully engineered FarPlay for the lowest latency possible on the internet today. By combining peer-to-peer architecture with efficient low-level communication with your audio hardware, we have the lowest numbers in the business.