All FarPlay users have access to video calls—no account needed! It's easy to use: In the main FarPlay session window, click the Video button under Tools.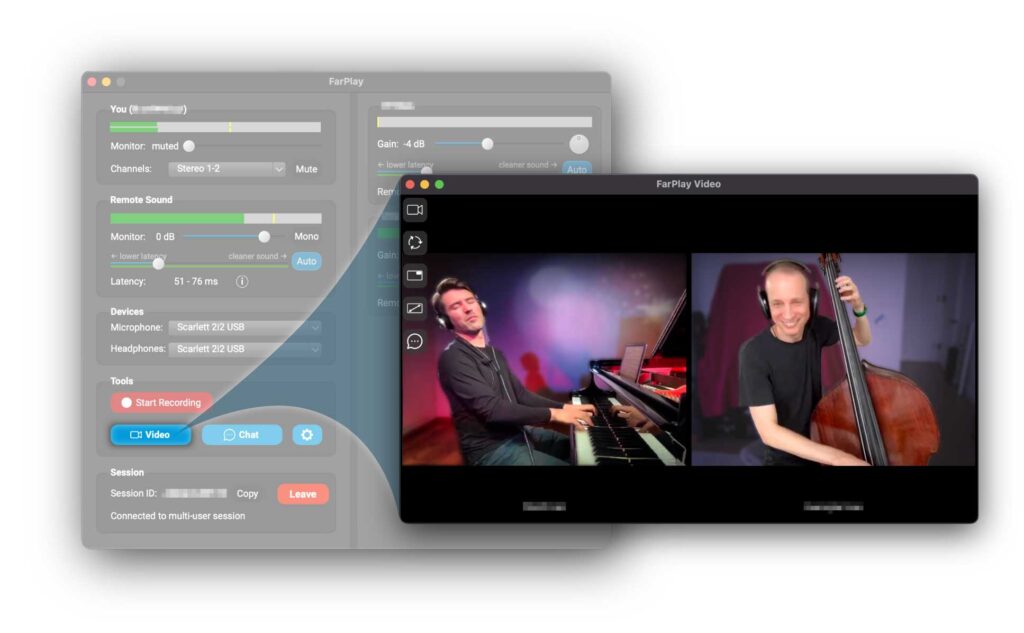 Five icons appear at the top-left corner of the FarPlay Video window. Click the
Choose your camera
icon

 to pick the webcam you want to use. Click the
Cycle layouts
 icon 

 to change the arrangement of the video panels on screen. Click the
Inset your video
 icon 

to shrink your video down to a small Picture-In-Picture inset so that more of your screen can be used to show video from other participants. Click the
Maximize videos
icon

 to enlarge and crop videos to fill as much screen space as possible. Click the
Open chat
 icon 

 to open a text chat window.
You can adjust the quality of the video you send to other participants.
On a Mac, click FarPlay's Video menu and choose Video Preferences. The drop-down menus allow you to change the maximum bandwidth, maximum framerate, and maximum resolution for each video stream you send to remote users. If your connection has poor upload performance, sharing both your audio and video might add static to the audio others hear from you. If so, try reducing your max outgoing bandwidth, and if reducing your max outgoing bandwidth makes the quality of your video too low for others, experiment with reducing your framerate and/or resolution.
FarPlay remembers the video preferences you choose for future sessions. You can go back to default settings by clicking the Reset to Defaults button.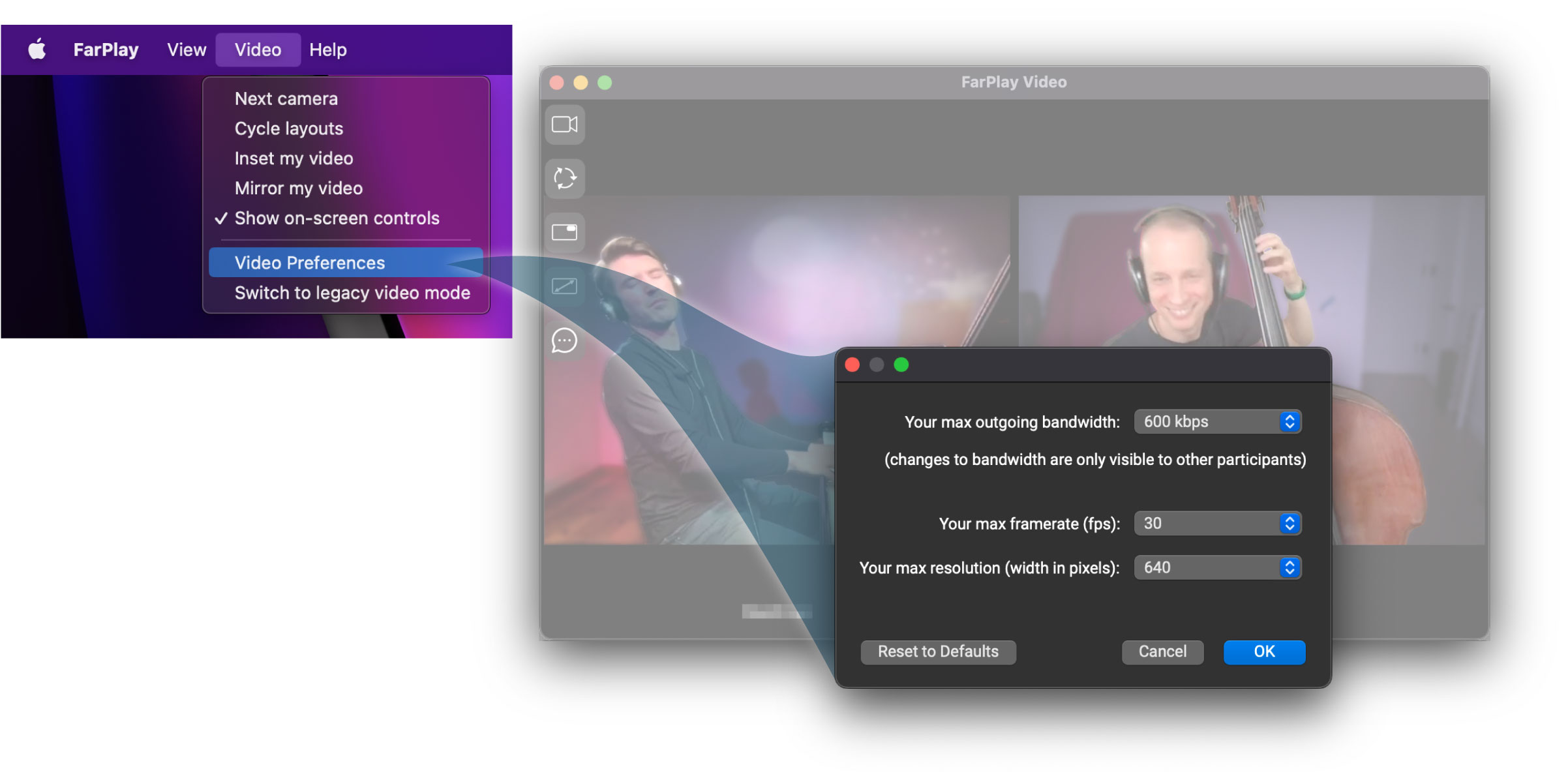 On Windows, click the Options menu in the FarPlay Video window. Click Video Preferences. The available settings are the same as for Mac, as described above.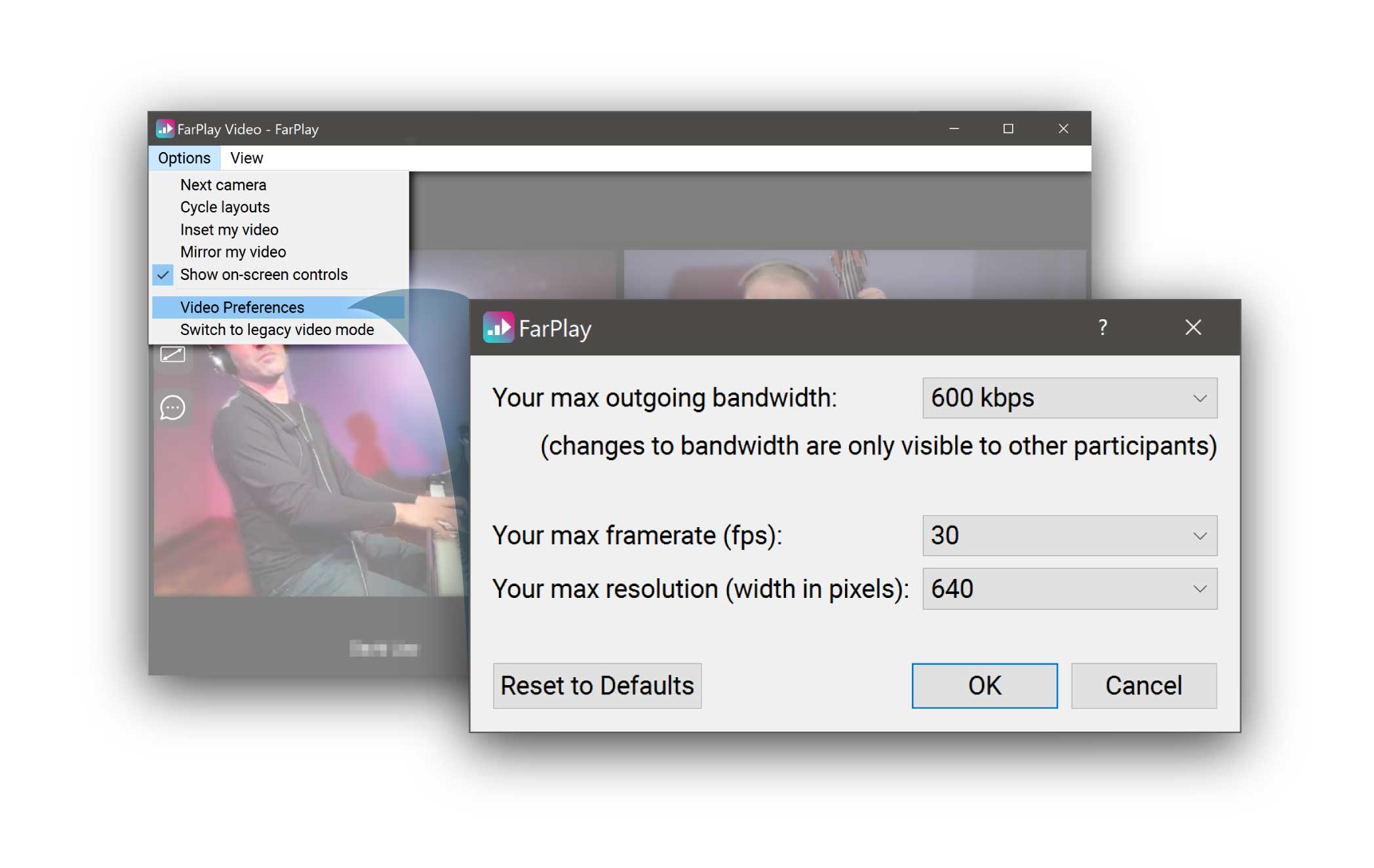 The
Video
 menu on Mac — and FarPlay Video window
Options
 menu in Windows — also let you toggle whether to show the on-screen controls overlaid on the video window ("Show on-screen controls") and whether to mirror your video
("Mirror my video")
.
FarPlay comes with video recording built in (for subscribers). Exported "combined video" presents multiple participant video feeds in a single view. Both Standard and Standard+ subscribers can record combined video, and Standard+ subscribers also get individual video tracks for individual participants (convenient for video editing).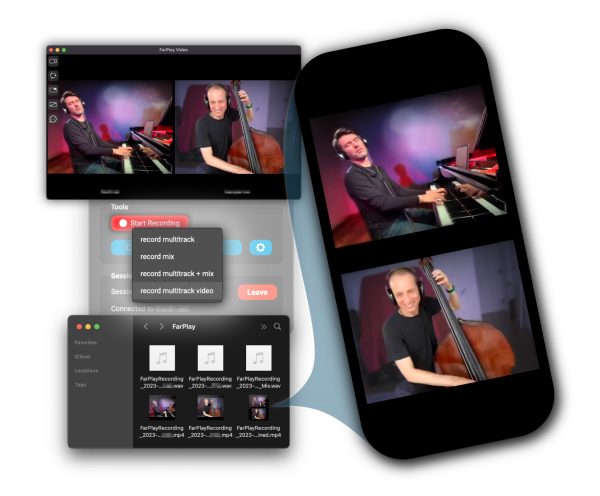 Customize appearance of exported combined video (optional)
Combined video recordings show the video feeds from each video chat participant in a single view. FarPlay's default settings are great for creating combined video recordings right out of the box.
If you'd like to customize the appearance of the combined video recordings that FarPlay exports, click the FarPlay Menu, select Preferences, and, in the Preferences window that appears, click the Recording tab.
The default export resolution for combined videos is 1280 x 720. Click the "Resolution for combined video recording export" pull-down menu to select from additional choices, including a 1080 x 1920 (vertical) option that's great for quickly sharing combined session video on social media!
By default, exported combined videos don't include session participant names. To show participant names in exported combined videos, check the "Show participant names in combined video recording export" checkbox.
Click OK.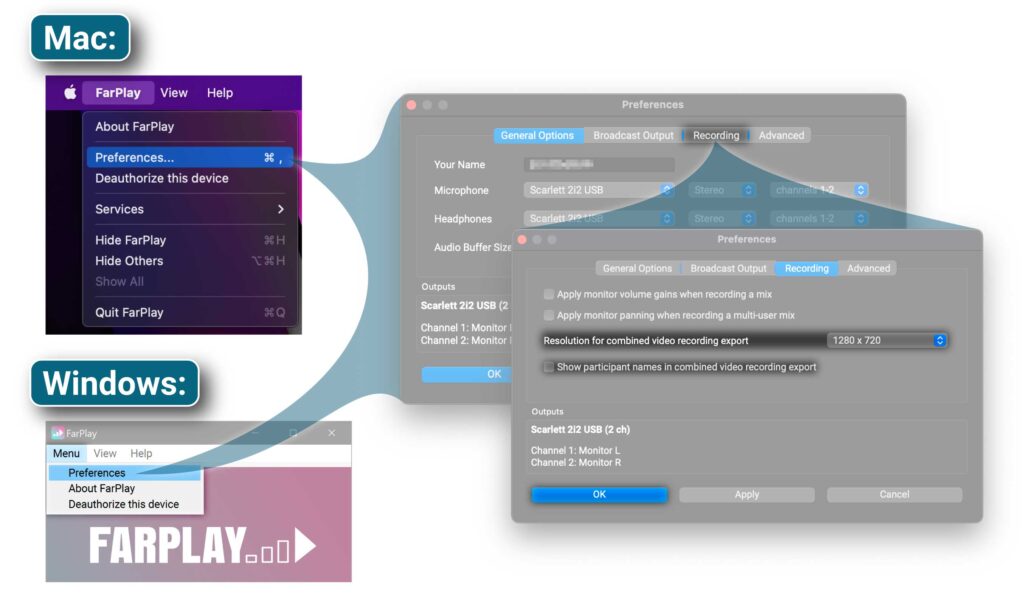 Start recording
Have participants start video (main FarPlay session window > Tools > Video button) as usual.
Click the Start Recording button under Tools, and choose record multitrack video (for Standard+ subscribers) or record mix video (for Standard subscribers).
Choose a folder and filename for your recordings, then click Save.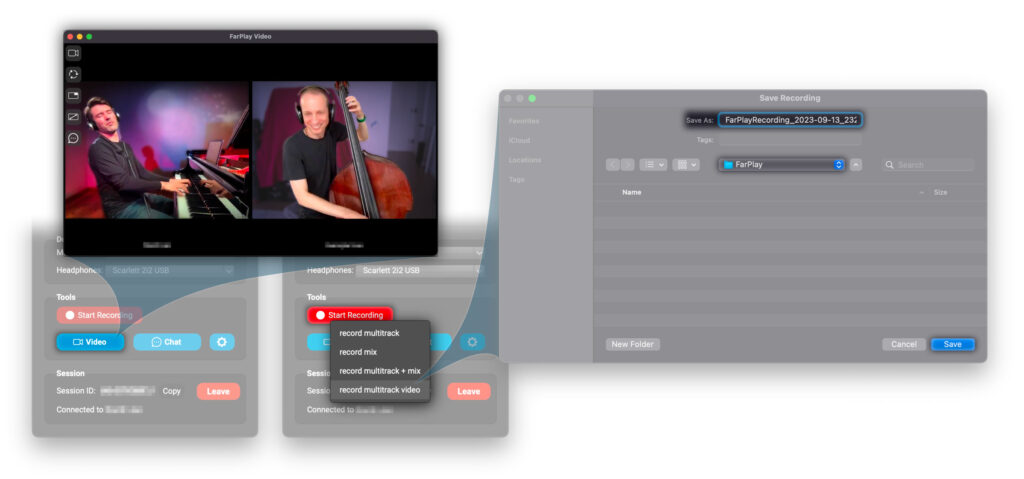 Stop recording
A timer will indicate the running length of the recorded video in the Tools sections.
When you're done recording, click Stop Recording under Tools.
In the window that appears, you can click Open Post-Processing Window to browse a list of video recordings available for export.
If you click Later, you can get to the Post-Processing window by clicking on FarPlay's View menu, then clicking on Show Video Post-Processing Window.
To queue a video recording for export, click the Process button in that recording's row. If you're not in a FarPlay session, post-processing will begin. If you're still in a FarPlay session, the status of the file conversion will be "Awaiting Session End" because FarPlay avoids post-processing videos when processing power should be dedicated to processing low-latency audio.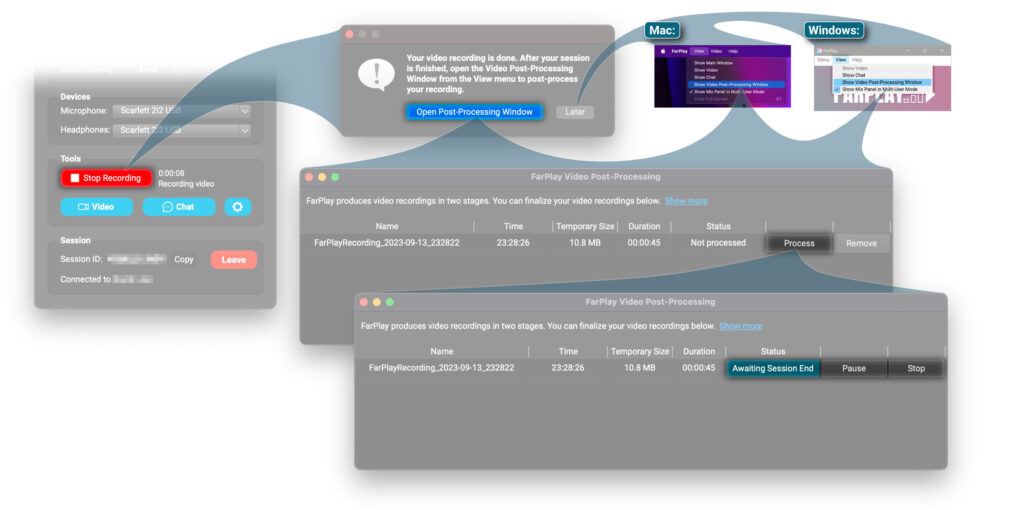 Exporting (post processing)
When you Leave a session, FarPlay will start converting video data that have the status "Awaiting Session End" into an .mp4 format that other applications can use. File conversion progress is shown in the Status column.
When post-processing for a video recording is complete, the progress bar is replaced by a Status that reads Processed. Clicking the Go To button opens the folder in which the corresponding exported audio and video tracks have been saved.
If post-processing of a video is completed while the FarPlay Video Post-Processing window is in the background, a window pops up to announce that "Your video recording has been successfully post-processed." Click Go to file to open the folder containing your exported video and audio tracks.